We may earn money or products from the companies mentioned in this post. Please check my disclosure policy to learn more.
Need to get your oily skin under control? First you'll have to set the facts straight.
There are various misconceptions surrounding the skin care essentials of oily skin – it does not need moisturizing, there is no need to apply sunscreen and you need to exfoliate it every day. The list goes on.
That's why we're here to help clear up the confusion. It's time to move away from such myths about oily skin and get ready for flawless skin. Below, we dispel the biggest oily skin myths and shed light on best practices!
1) You Don't Need A Moisturizer If You Have Oily Skin
Most people feel that when they have oily skin, they don't need a moisturizer. It's definitely a myth.
The fact is that when you have oily skin, its really important to use a moisturizer to make sure your skin doesn't overproduce oil. So, when you use a moisturizer, you actually help your skin to balance your oil production, therefore making you less oily.
Yes, its true. If you use a moisturizer, you will be less oily!
The key to getting on board with the idea of using a moisturizer for oily skin is to think of hydration instead of oil. Hydrated skin is healthy skin. Dehydrated skin can cause a lot of skin issues like acne and irritation.
The role of a moisturizer is to improve the hydration of skin by adding water to it. Just because your skin is oily doesn't mean it has enough water. Get it?
There are many moisturizers that are created specifically for oily skin. A good moisturizer for oily skin is generally very light and fast absorbing.
Look for non-oily moisturizer with ingredients like propylene glycol, dimethicone, aloe, glycerin and hyaluronic acid, that don't trap oil into the pores. Definitely take the time to read the ingredients on the moisturizer, to avoid any harmful ingredients.
I recommend Radha Beauty Retinol Moisturizer For Face and Neutrogena Oil-Free Daily Facial Moisturizer for Sensitive Skin.
2) If You Exfoliate More, Your Skin Will Clear Up
Exfoliation is a vital step for people with oily complexion. It helps to remove dead skin cells and prevent spots and pimples. Increased oiliness can make it difficult for the skin to shed dead cells otherwise.
But, its a myth that over-exfoliating your skin will help clear it up. Over-exfoliation is just as bad.
It will lead to more oil production and can also lead to more inflammation of the skin. When you have breakouts, you want to make sure you use the right amount of exfoliation, so scrubbing off will not get rid of your acne, or your breakouts.
In fact, it will leave your skin vulnerable to dehydration and worst case, infection.
So how often should you exfoliate an oily complexion?
The average oily skin type that is not sensitive, will benefit from exfoliation 2-3 times a week.
Salicylic acid is the best option for exfoliating oily skin as it can penetrate your pores, prevent acne, and reduce overall blemishes in a mild but extremely effective manner. Salicylic acid is a very strong anti-bacterial agent that helps to prevent and eliminate bacterial growth on the skin. It stimulates the skin collagen which in turn prevents acne growth. It is soluble in the natural skin oil, hence it can reach the pores of skin cells, remove dirt and residual makeup easily along with removing dead skin cells.
I recommend NeedCrystal's Face Scrub With Salicylic Acid. It has some amazing reviews on Amazon in case you want to check it out.
Check out these diy scrub recipes for oily skin.
3) Sunscreen Will Make You Break Out
I hear this misconception all the time from people with oily/acne prone skin. We need sunscreen, gals! It is very important for our skin to wear sunscreen every single day.
I would look for mineral sunscreens like titanium or zinc that won't cause you irritation or make you breakout.
A lot of people tell me that they have used a lot of sunscreens but none of them seem to suit them and their skin appears more oily and greasy when they put on a sunscreen, which is true in most of the cases.
Most sunscreens are lotion based that is they have an oily base therefore they leave the skin feeling more oily. Also, because these sunscreens are oil based, they may increase your problems of acne or pimples.
People with oily skin may find that their skin responds better to a gel based sunscreen. A gel based sunscreen has water as its base, so it does not block off the pores on the surface of the skin and it sometimes gives a matte appearance to the skin, and your skin appears better.
Try out EltaMD UV Clear or Neutrogena Clear Face Liquid Lotion Sunscreen based on my recommendation, if you are not sure which sunscreen to choose for your oily skin.
4) You Need To Wash Your Face Constantly
There is a myth about oily skin that you need to wash your face constantly throughout the day to get rid of oily skin. The fact is that you need to wash your face only two times a day, with a cleanser designed to help reduce the appearance of oil.
Over-cleansing can lead to an increase in oil-production, which can leave your complexion looking even greasier.
Read: Best Face Washes For Oily Skin Drugstore
Don't just use any cleanser. Use one that is meant for oily skin.
Look for a cleanser with a matte finish, as it can help keep your face from looking overly shiny throughout the day. Cetaphil PRO DermaControl Oil Removing Foam Wash fits the bill. It is specifically designed for people with oily and acne prone skin.
If you feel that one cleanser is not enough to completely cleanse your face, go for a double cleanse. This involves first using a no-rinse cleansing option like micellar water to remove all the dirt, makeup and excess oil from the surface of the skin, followed with a rinse-off cleanser to remove any remaining impurities.
Pair the Garnier SkinActive Micellar Cleansing Water with your Cetaphil PRO DermaControl Oil Removing Foam Wash.
Of course, you may be tempted to wash your face several times a day, but the fact is that you must wash your face no more than two times a day, even if you have oily skin. So stick to your schedule of morning and evening cleansing.
5) Makeup Will Make Your Skin Worse
Let's be real. Oily skin can be really tricky to deal with. What if your face starts looking greasy midway through the day? That totally takes a toll on your makeup look. Does that mean oily skin people cannot apply makeup?
The fact is that you can definitely wear makeup, but choose your makeup wisely. Avoid pre-clogging foundations that feel heavy on the skin.
Read the ingredients of the makeup products carefully and choose the ones that mention keywords like "non-comedogenic", "oil-control" or "mattifying", like the Rimmel Stay Matte Foundation.
Choosing a primer before applying the rest of your makeup is a good idea. Every morning after applying your favorite moisturizer, apply a matte primer like the Rimmel Stay Matte Primer, all over your face or to the targeted areas.
If there is only a little that you want to cover up, choose powder over foundation like the Coty Airspun Loose Face Powder, which is lightweight and long lasting.
Irrespective of the product you use, remove makeup before you sleep, or even better, right after you come home, so that your skin can breathe a little. Grab the Cetaphil Gentle Waterproof Makeup Remover.
6) Greasy Food Makes Oily Skin Worse
There is this misconception about oily skin that high fat diet is responsible for making skin more oily. There is not enough research to substantiate the fact that high fat diet is the reason for oily skin.
The only known fact is that excessive production of sebum by large sebaceous glands causes oily skin. Skin that tends to be oily has more to do with hormones than what you eat.
Although a high-fat diet is not directly related to production of excess oil, its not true that diet doesn't have any effect on oil production at all. Certain foods like sugar, when consumed in large amount, can lead to excess oil production in many individuals.
In few patients, milk or nuts may aggravate acne.
Choosing healthy foods is the best way to eat, no matter what your skin type is. Try to include food that is rich in omega-3 fatty acids, as the omega-3s found in oily fish may limit the production of inflammatory chemicals that are responsible for breakouts.
If you do not eat fish, you can supplement that with a high quality omega-3 fish oil.
7) You Should Use Alcohol Based Skin Products To Get Rid Of Oily Skin
With so much misleading information out there about alcohol in skin care, it's really not surprising that people believe it's not bad for skin at all. The fact is that alcohol in any skincare is a problem.
Although alcohol based products strip excess oil from your face, they don't do the skin any good in the long run. They will only make the surface of your skin dry, which will make your skin produce more oil to compensate.
By presence of alcohol in skin care or makeup products, I am referring to a drying type of alcohol that you'll most often see listed on an ingredient label as SD alcohol, denatured alcohol, or, less often, isopropyl alcohol. These types of volatile alcohols give products a quick-drying finish, so it appeals a lot to people with oily skin.
But don't be too tempted to use these products, as they will do more harm than good in the long run.
The irony of alcohol based products claiming to control oily skin is that they can actually cause more oiliness, by getting the skin rid of all the necessary oils. Refrain from using these products, and go for an alcohol free product like this one.
8) Oily Skin Will Definitely Cause Acne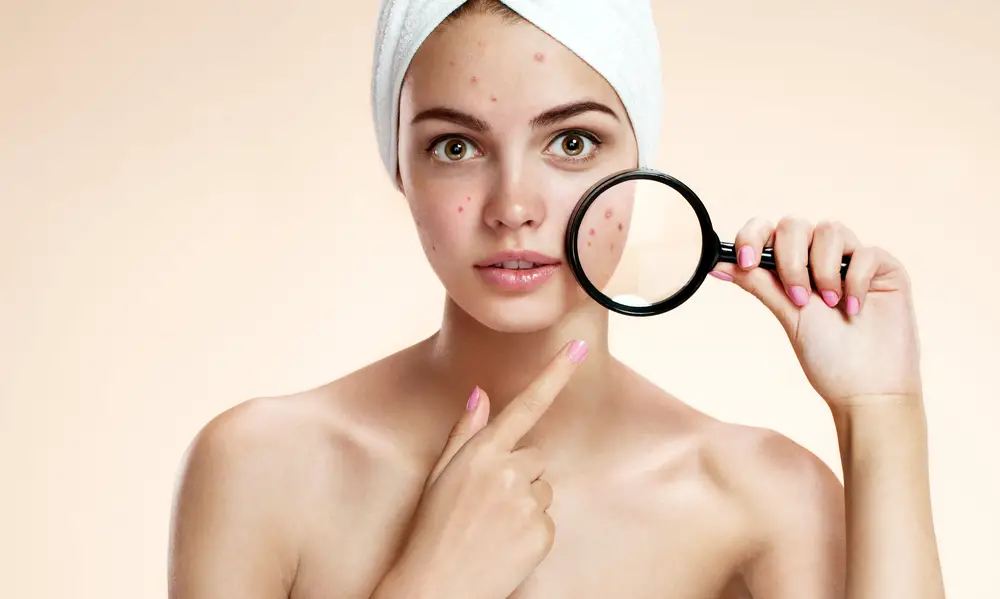 Does oily skin cause acne? Maybe. In many ways oily skin and acne are related. That's because excess oil on your face most likely will clog pores and attract bacteria.
But, not all patients with oily skin break out. Plus, there are a lot of people with dry skin that have acne.
According to the American Academy of Dermatology, any type of skin can develop whiteheads, blackheads and pimples. Acne is most likely to develop when an oily substance called sebum produced by sebaceous (oil-making) glands mixes with dead skin cells and other debris to plug pores and cause bacteria to thrive.
Hormones are one of the causes of acne. The second reason for acne besides hormones is heredity. If there is a family history of acne, you might have acne too, or you might not.
So, yes there is a connection between oily skin and acne, but its a myth that oily skin will definitely cause acne. Fortunately, there are a lot of effective treatments for acne available in the market like Proactiv Solution 3-Step Acne Treatment System (30 Day).
You can even try out these homemade face masks for acne scars, if your acne is not that severe.
9) Oily Skin = Dirty Skin
It is a myth that oily skin is caused by lack of hygiene. If that was true, we could easily fix it by washing our face repetitively.
The truth is that cleansing your skin too much can make the problem worse, just like avoiding moisturizing and over-washing your skin can produce excess oil.
Stick to cleansing twice a day by using a gentle cleanser that contains a little benzoyl peroxide or salicylic acid like the CeraVe Salicylic Acid Cleanser that removes excess oil and dirt without making your skin too dry.
Also avoid cleansers and toners containing alcohol as they can strip oil from your skin.
10) Chocolate Makes Oily Skin Worse
People think chocolate causes skin to become more oily, but the fact is that it all depends on the type of chocolate you are eating.
Milk chocolate contains two things that are known to cause acne and oily skin – milk and sugar. Milk, for instance is linked to skin oiliness and acne, most likely because of the levels of hormones in milk.
The added refined sugars in chocolate spike blood sugar, leading the body to produce insulin, which then increases the likelihood of oily skin.
Dark chocolate doesn't contain milk, and varieties that have a cocoa content of 70% or higher contain less sugar (the higher the cocoa content, the lower the amount of sugar).
So these were some of the most popular oily skin myths busted. Is there any other oily skin myth that you want to share? I would love if you comment down below 🙂
Related Posts