This post might contain affiliate links. I get paid a small commission (at no extra cost for you) if any sales are made through it but I only recommend products that I truly believe in! Please check my disclosure policy to learn more.
Wondering how to make your very own DIY vitamin C serum? You are at the right place.
In this post, you will learn how to make vitamin C serum from orange peel at home.
I am very skeptical about using expensive skincare products on my face these days. I enjoy the process of preparing my own products at home with all-natural ingredients. It's a very relaxing experience for me.
A month ago, I was looking for a solution that would not only get rid of all the excess oil but also improve my skin texture. That is when I stumbled upon this amazing vitamin c serum recipe using orange peel.
After over 1 month of using this homemade vitamin C serum in my skincare routine, I feel confident sharing this recipe with you guys. My skin feels softer and the overall appearance of my skin has drastically improved after using it.
Let's see why this serum actually works…
Why Use Vitamin C For Your Face?
Vitamin C has some amazing benefits for the skin –
It is an excellent that lightens the and repairs it as well.
It is safe for almost all types.
It reduces redness and evens out your .
It reduces the appearance of under-eye circles.
It helps promote by removing .
It helps reduce the appearance of and .
It protects you against by fighting  and soothes sunburns from excessive .
What's Wrong With The StoreBought ?
You can buy a Vitamin C serum at almost any department store. There are so many brands, all claiming to do the same thing. Some are quite affordable as well.
But here's what they are not telling you.
C

has a short shelf life. It can quickly oxidize and change its color and appearance. This renders the product completely useless.

The pipet applicators used in Vitamin C serums also allow for a lot of air exposure.

Also, there are so many forms of

C

serums available in the market, so it is very tough to choose a decent one. Most serums contain , which is highly acidic in nature and can irritate .
Here's a detailed article listing the various pros and cons of commercial vitamin C serums.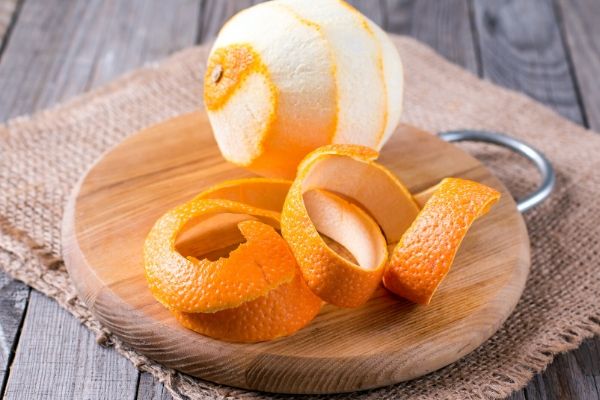 This orange serum that we are going to prepare today will definitely improve the quality of your skin. As you will see, it is also super affordable to make at home. It is good for all skin types too. On top of all, it smells good too.
Related Read: DIY Vitamin C Serum With Tablets
Let's dive right in and learn how to make our own homemade orange peel serum.
1. Take a couple of oranges and, grate their outer cover.
2. Make sure you are only grating the orange till it is orange in color. Do not grate the white part of the orange for this DIY recipe.
3. Add one cup of water to it. Put this mixture for boiling at a high temperature on a gas stove.
4. When the mixture starts boiling, reduce the flame to a medium-low. Leave the mixture for 10-12 minutes.
5. The mixture will now get concentrated and all the Vitamin C juice from the oranges will get dissolved in water.
6. At this point, strain the Vitamin C juice into a bowl. Make sure you squeeze out all the juice from this mixture.
7. Take 1 tablespoon of Organic Aloe Vera Gel and add it to the Vitamin C juice we made in the 1st step. Mix well till all lumps disappear. It is available on Amazon as well as any medical store.
8. Take any Vitamin E capsules available in the market. If you have oily skin, add one drop from the Vitamin E capsule. If you have normal/dry skin, you can add 2-4 drops of Vitamin E as well.
9. If you feel that the mixture is still very thin, you can add more Aloe Vera Gel or glycerin into the mixture accordingly.
You can store this DIY vitamin c serum for 1 month, but I suggest you consume one batch within 10 days and make a fresh one after that.
Your homemade Vitamin C serum for glowing skin, using natural ingredients, is now ready to use.
Wasn't this easy? It doesn't require much time and is not taxing on the wallet too.
I absolutely love it.
Select a small area of .
Apply a small amount of the and wait for 24 hours.

If no side effects occur, go ahead and apply it to your face. Do not use if you develop a rash, redness, or hives.

You can follow it up with your favorite .

Use it consistently for at least 3 months to see the best results.
All the ingredients are easy to get and inexpensive.

It takes merely 5 minutes to prepare this .
It protects your from the harmful radiation of the sun.
It helps heal

conditions

like acne, blemishes, , dryness, etc.
It promotes .

It's safe to use this all over your face, as it has all-natural ingredients.
Next Step?Read more tips on how to get naturally glowing skin at home.
If you liked my vitamin c serum recipe, please don't forget to comment below. Thanks, for reading 🙂